Humbaur /
Horticulture and landscaping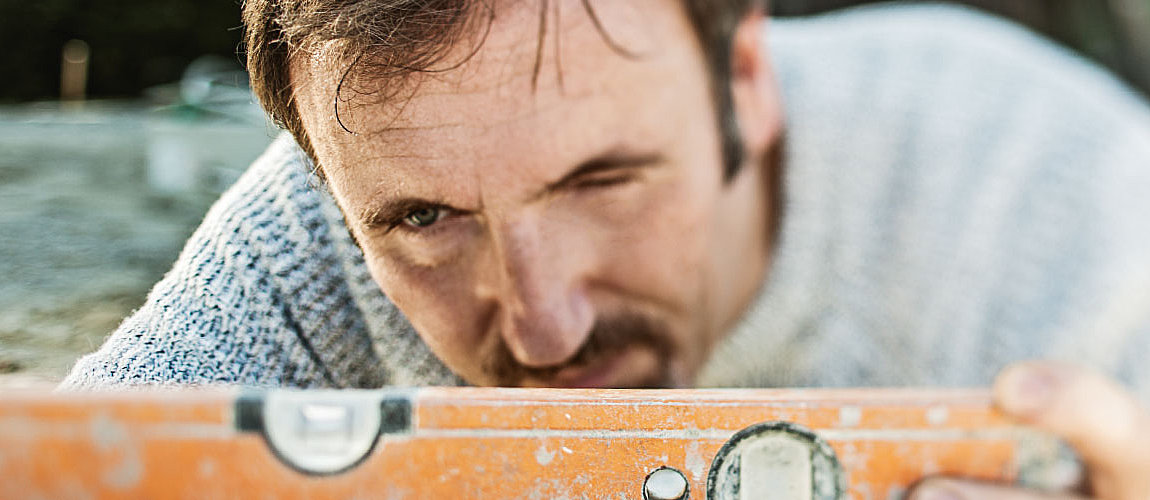 Follow HUMBAUR!
The all weather specialist.
Luciano Peros, landscape gardener, Florence.
I thought to myself: Do something where you are outside a lot, and you can work with plants. That's why I became a landscape gardener. Now I know that's only the half of it. The job is much more varied. I'm often drawing plans in the office. There are earthworks to be carried out. I frequently have large areas of paving to do. Weight is an issue in my job and the plants are only a small part of it. That's why I bought a HUMBAUR, which can carry almost three tonnes. It can be tipped in three different directions. That helps me on hilly and difficult terrain. Tipping is hydraulically assisted. Then there are a lot of accessories with which I can raise the side walls, for example. That's very useful when I am travelling with shrubs. Then I'm outside in the beds in front of the house and I'm actually working with plants.


Luciano Peros, landscape gardener
Florence
Comments
"I have been out and about with it for three years. None of its predecessors was that practical."
Fynn Balke
"My Humbaur simply makes my work easier. It is easy to clean and very tough."
Joe Barth
"I really can't remember when I bought it. Too long ago. But there it is, absolutely perfect."
Lucy Poe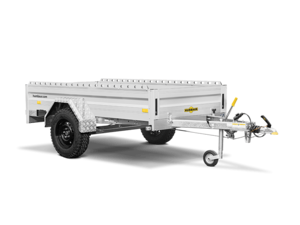 Safe transport off the road: Off-road tyres provide grip off-road and increase the off-road capability of the trailer. The side railing enables more flexible load securing and can be used to fix a net or tarpaulin. Particularly resistant mudguards made of aluminium chequer plate not only give the trailer that certain something visually, but also provide the best protection.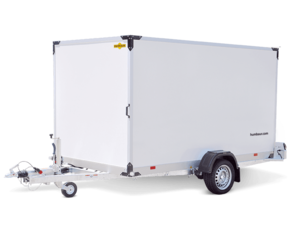 The clever box trailer with an intelligent lowering mechanism. The cargo bed moves towards you for loading and unloading. The flat drive-up angle is just 4 to 6 degrees. With the integrated access ramp and upwards opening tailgate, this trailer is the perfect partner for comfortable loading. A solid anti- slip floor and stable side walls with a GRP coating ensure durability. With the optional rocker, it is ideal for transporting motorcycles.
Configure Single axle Plywood, wheels out, lowerable trailer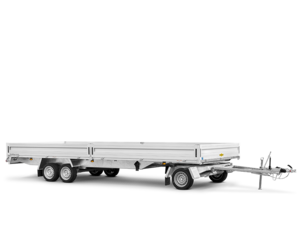 With its drop sides and anodised aluminium profiles, it looks good and offers you a huge amount of loading space. The turntable wheels-in trailer drives safely on three rubber spring axles and special tyres that also ensure a low loading height. Choose between body dimensions from five to eight metres in length. Its payload ranges from 2.3 to 2.67 tonnes. Eight to ten sturdy lashing rings secure your load during transport. The ball bearings fitted in the steering crown make this three-axle vehicle particularly easy to drive and manoeuvre.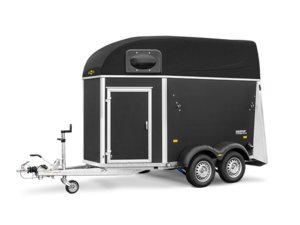 The Equitos Plywood Plus ensures safe transportation of horses, while still in the low-cost horse trailer segment. Its plywood side walls are coated with UV-resistant plastic. The floor is made of AluBiComp, a particularly robust composite panel that does not corrode or rot. The lockable EquiLock© partition wall and the continuous, height- and length-adjustable breast and breeching bars ensure that horses can be transported even more safely. The EquiDrive© chassis ensures safe and convenient handling. It is equipped with wheel shock absorbers and the tires are suitable for traveling at speeds of up to 100 km/h (only in Germany.) The trailers are fitted as standard with a lockable tack room featuring saddle rack, bridle rack, mirror and storage net, tinted vent window in the polyester roof, interior lighting and hay net ring as well as a wind deflector for draft-free interior ventilation.