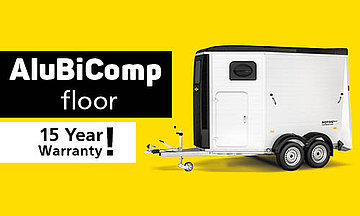 01/31/2020
15-year warranty on the Humbaur AluBiComp floor
Our goal is to provide you with high-quality, durable trailers, which is why we are always working to make our products even better. Our tried-and-tested AluBiComp floor, which is included as standard in many horse trailer models, just got even better. We are proud to now be able to offer you a 15-year warranty against rot. We are confident in the materials we use and the carefully considered design which has proven itself in practice, resulting in long-lasting, reliable trailers that are suitable for all situations and even the trickiest of roads.
AluBiComp floor — hard-wearing and rot-proof
Our innovative AluBiComp floor is not only significantly lighter than classic wooden floors, but more importantly, it is much more durable — able to withstand horse kicks as well as moisture. Thanks to the specially selected materials and high-quality craftsmanship, the floor is completely moisture resistant, making it impervious to rot and decay. This means that the floor is highly durable.
Rigid polypropylene foam is used as the core, with upper and lower cover layers made from sheet aluminium. Finally, this is covered with a special coating to prevent oxidation. This process means that the materials are well-protected from horse manure and that the floor cannot be damaged by the ammonia this contains.
Benefits of the AluBiComp floor
Resistant to moisture and ammonia
Significantly lighter than classic wooden floors (30% weight saving)
Easy to clean and maintain
No rotting or breakages
The AluBiComp floor is included as standard in the following horse trailer models:
Single Alu, Equitos Alu, Equitos Alu Plus and all models in the Xanthos, Xanthos Aero, Xanthos Carriage, Zephir, Zephir Aero, Zephir Carriage, Maximus, Maximus Deluxe, Notos Alu, Notos Xtra Pro, Notos Xtra Up and Notos Tria series.
It is available as an option in the Single Plywood, Equitos Plywood and Equitos Plywood Plus trailers for a small additional fee.
Humbaur Press Officer
Monika Niederreiner
Corporate Communications Manager
Humbaur GmbH
Mercedesring 1
86368 Gersthofen
Germany
Telephone +49 821 24929-0
Fax +49 821 24929-500
m.niederreiner@humbaur.com
Humbaur makes it happen
HUMBAUR is one of the largest companies in the world of trailer and vehicle bodies. The owner-managed family company offers around 420 different trailer models as standard for both commercial and private customers, as well as 230 models in the FlexBox box body range. Its 600 employees produce around 60,000 trailers each year. The expert in trailers and transport solutions with total weights ranging from 750 kg to 55 t has a national and international presence, and also manufactures customised solutions. Over 500 dealers in Germany and 26 other European countries offer local contact partners. More at: www.humbaur.com