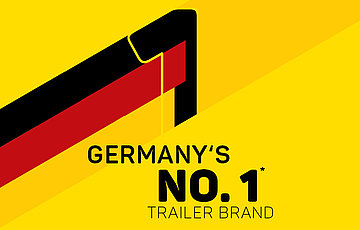 01/23/2022
For the fourth time in a row - Germany's No. 1* Trailer Brand!
In 2021, Humbaur once again won the title of Germany's no. 1* trailer brand. This is supported by the total number of new registrations in the motor vehicle trailers segment with a permissible maximum weight of up to 3.5 t. The trailer manufacturer is extremely proud and especially grateful to once again occupy the top spot.
For four years in a row, Humbaur GmbH has been the undisputed no. 1*, a fact that is backed up by the number of registrations for trailers up to 3.5 tonnes. This award comes as a special honour to the company, as every day it strives to offer the best possible solution for all transport needs — in keeping with the motto, Humbaur makes it happen. That is why Humbaur would like to thank all of its employees, suppliers, dealers and, most importantly, loyal and satisfied cus-tomers. Without them the company would not be in this top spot year after year.
The Gersthofen-based trailer specialist focuses on three key pillars that enable the company to offer high-quality products as well as a first-class service: Offering a wide range of products that features high-quality and reliable trailers, providing excellent customer service backed by a large dealer network, and supporting enthusiastic employees who work to make the products even better on a daily basis.
A diverse portfolio — a trailer for every application
The company management attributes the company's renewed success to two key factors: Firstly, the wide range of high-quality passenger vehicle trailer models, which offers a trailer to cater to every application and budget. And secondly, the innovative abilities of the design-ers, who repeatedly come up with new and practical functions. This ensures that the company is constantly driving forward. If it's developed by Humbaur, it's sure to pass the test: Our products take im-proving transport, load securing and driving characteristics one step further.
Top customer service thanks to a large dealer network
To make it easy for you to find the ideal trailer, Humbaur doesn't just offer a modern website — it also maintains long-term partnerships with its professional and reliable dealers. The service network has spread far and wide, and is not limited just to Germany. Humbaur has contact people around the world who are available to provide advice before and during a purchase. Even if you already have a trailer at home and are simply looking for a spare part or have questions, our dealerships are the best place to go. Because at Humbaur, providing expert advice and a full service is particularly important to us.
A long-standing company history and committed employees
Humbaur GmbH has been manufacturing trailers for passenger vehicles for almost 40 years. The company is constantly advancing. This is all thanks to the accumulated knowledge drawn from these many years of experience, coupled with the use of the latest technologies and the numerous ideas suggested by dedicated employees. New trailer models add to the model portfolio and offer solutions for any application.
All the while, the focus is always on the customers. Because not only should every trailer serve its owner for many years — it should also be easy to use. What's more, it should be practical and precisely tailored to its intended use. Humbaur always keeps its eye on the market and takes customer feedback seriously.
The production figures confirm the brand's chosen path: On average, over 1200 trailers leave the production line in Gersthofen each week. That equates to 60,000 units produced per year. Since the company's founding, more than 1,000,000 trailers have been sold. This is not only comforting confirmation of the company's recipe for success, but also a reason to rejoice.
"We would like to thank all customers, employees and trading partners for their loyalty and faith in the Humbaur brand", said Ulrich Humbaur, owner and CEO of Humbaur. "Thanks to you, we are once again Germany's No. 1* in 2021."
You can find out more about Humbaur trailers on our website: https://www.humbaur.com.
* Total number of new registrations in Germany in 2021 in the motor vehicle trailers segment with a permissible maximum weight of up to 3.5 t; source: Management Services Helwig Schmitt GmbH
Humbaur Press Officer
Irina Lew
Corporate Communications Manager
Telephone +49 821 24929-532
i.lew@humbaur.com
Humbaur makes it happen
HUMBAUR is one of the largest companies in the world of trailer and vehicle bodies. The owner-managed family company offers around 420 different trailer models as standard for both commercial and private customers, as well as 230 models in the FlexBox box body range. Its 600 employees produce around 60,000 trailers each year. The expert in trailers and transport solutions with total weights ranging from 750 kg to 55 t has a national and international presence, and also manufactures customised solutions. Over 500 dealers in Germany and 26 other European countries offer local contact partners. More at: www.humbaur.com