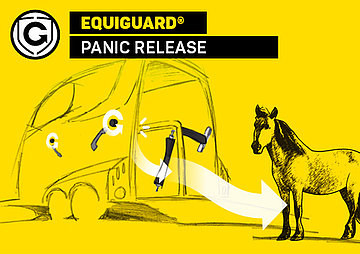 11/29/2019
Humbaur panic release function increases safety when transporting horses
Quick and easy to open with a single action The German trailer specialist has made transporting horses even safer. With just a single action, the breast bar and breech bar can be released in the front and rear of the trailer. The function is intuitive to operate, allowing you to act swiftly, even in an emergency. Humbaur will present the optimised EquiGuard® system to the public at "Pferd & Jagd", Europe's biggest exhibition for riding and hunting.
React sixteen times faster
The patented panic release function can be activated with a single, quick hand movement, allowing you to act much more quickly in an emergency. The knob is ergonomically shaped and easy to turn. No tools, no effort. This saves an enormous amount of time. Instead of the 16 half-turns required previously, a quarter turn is now sufficient.
Easy to operate
The transport safety system can be easily opened from the outside, but that is not all. Simply press the locking mechanism from inside of the horse trailer and the support bar slides down immediately. The highly practical lock can be easily closed with a gentle push; a soft click confirms that it has slotted into place.
Minimised risk of injury
In order to protect both humans and horses, the entire locking mechanism has been fixed to the wall. It releases only the breast bar, which is cushioned to protect the horse—especially its sensitive ankles—from injuries. Its special design means the entire system can be used in almost complete silent.
Maintenance-free and designed to last a lifetime
The Humbaur EquiGuard® is durable, maintenance-free and easy to clean. The system is designed so that dirt can be easily removed with a high-pressure steam cleaner, and there are no special instructions to follow when cleaning the trailer as usual. There is also no need for relubricate any parts.
Stylish design
The high-quality rotary knob fits perfectly with the exterior wall design. The practical handle beneath the knob can be used for manoeuvring the trailer and its sophisticated dimensions mean that it also comes in useful for reliably tethering the horse.
You can find out more about the Humbaur horse trailers on our website: https://www.humbaur.com/en/trailer/horse-trailers/
Humbaur Press Officer
Irina Lew
Corporate Communications Manager
Telephone +49 821 24929-532
i.lew@humbaur.com
Humbaur makes it happen
HUMBAUR is one of the largest companies in the world of trailer and vehicle bodies. The owner-managed family company offers around 420 different trailer models as standard for both commercial and private customers, as well as 230 models in the FlexBox box body range. Its 600 employees produce around 60,000 trailers each year. The expert in trailers and transport solutions with total weights ranging from 750 kg to 55 t has a national and international presence, and also manufactures customised solutions. Over 500 dealers in Germany and 26 other European countries offer local contact partners. More at: www.humbaur.com