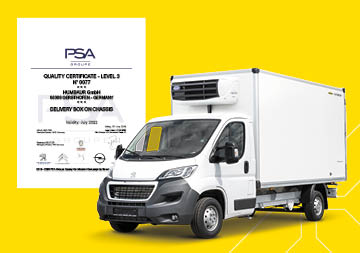 02/03/2020
Proven quality: Humbaur is a certified modification partner of the PSA Group
The modifications carried out by the Gersthofen-based trailer and vehicle body specialist stand out thanks to their quality. Something that vehicle manufacturers agree with. Humbaur's many certifications confirm it – and now the company is delighted to have been awarded certified status by the PSA Group. The awards ceremony was very special.
Reflecting about what you do and how you do it is a vital factor in any company's success. That's why Humbaur arranges for its processes and prod-ucts to undergo regular and stringent external audits. So far, it has always passed with flying colours. And rightly so. Many well-known brands already know that the Gersthofen-based company is a name that can be trusted. Now the PSA Group has rewarded Humbaur's outstanding efforts by award-ing it the status of certified modification partner in January 2020.
Certification without a hitch
The certification process itself is far from a walk in the park. The Engineering & Development, Production, Quality Control and After Sales Departments were all scrutinised in the minutest of detail. Checks were also carried out to ensure that Humbaur complies with every last letter of the PSA body construction guidelines. The result? A pass with flying colours.
In the words of Managing Director Ulrich Humbaur, "I'm delighted that we succeeded in gaining certified modification partner status, since it proves that the PSA Group trusts us and our products. As a manufacturing company, our aim is always to provide our customers with the best possible service, and to increase our market share by offering innovative and high-quality products."
And it's not only the Gersthofen-based specialists that benefit from PSA's decision to make Humbaur a certified modification partner. It's also good news for customers, since when they purchase a Humbaur FlexBox they can be sure that they're buying a high-quality branded product. Ideally cus-tomised to every vehicle and installed to the highest possible standards. Certification means that the PSA warranty on the base vehicle remains fully in place.
The certificate was handed over at the PSA Group's headquarters during an LCV event in Paris. Markus Wiedemann, Head of Sales for Box Bodies at Humbaur, was delighted with the award and very much enjoyed the celebrations.
Humbaur FlexBox – custom-built box bodies
FlexBox bodies are customised. Both to the vehicle and to the customer. The box bodies are developed – and enhanced, of course – in close cooper-ation with the automotive industry and leading European logistics service providers.
Since each customer is different, the vehicle body can be tailored to individual requirements. Ensuring that all of our customers receive the FlexBox they need, which supports them in their daily tasks and allows them to perform these tasks as efficiently as possible.
Reliability in 3 series – FlexBox Dry, Cool and Freeze
The Dry series is ideal for dry freight. Do you need to keep it cool? The box bodies in the Cool series are ideal for fresh produce. The Freeze series is the perfect choice if you need a reliable option for transporting frozen goods.
What they all have in common is the payload-optimised design and a variety of installation and expansion options. Whether it's a screen-printed floor, wall panelling, lighting, doors, lashing eyes or protection. Humbaur makes it happen.
The FlexBox range now includes over 230 models, for example, with industry-specific solutions for every requirement. And if you still can't find the one for you? Humbaur also specialises in customised individual solutions.
Humbaur 24/7 roadside assistance service – a reliable partner
Humbaur was the first commercial vehicle manufacturer to work together with ADAC Truckservice, and the partnership has run successfully for many years. Customers benefit in two different ways. Firstly from a comprehensive network of workshops and service centres, which ensure that assistance is rapidly at hand in the event of a breakdown. Keeping your vehicle on the road and your goods fresh.
And secondly from the digital monitoring of refrigeration units that has been integrated into the FlexBox Cool and Freeze. This includes a warning func-tion that can be combined with mobile or stationary repairs according to the customer's preferences. This reliable "guard" watches over the goods being transported, allowing customers to concentrate on their core business.
PSA Group Commercial Vehicles – many brands under one um-brella
The PSA Group (Peugeot Société Anonyme) includes many well-known brands, such as Peugeot, Citroën and Opel. The French car manufacturer has been the second largest car manufacturer in Europe since August 2017.
You can find out more about the Humbaur FlexBox on our website: https://www.humbaur.com/en/box-bodies/
Humbaur makes it happen
HUMBAUR is one of the largest companies in the world of trailer and vehicle bodies. The owner-managed family company offers around 420 different trailer models as standard for both commercial and private customers, as well as 230 models in the FlexBox box body range. Its 600 employees produce around 60,000 trailers each year. The expert in trailers and transport solutions with total weights ranging from 750 kg to 55 t has a national and international presence, and also manufactures customised solutions. Over 500 dealers in Germany and 26 other European countries offer local contact partners. More at: www.humbaur.com