Trailer /
HK construction site trailer
Construction site trailer HK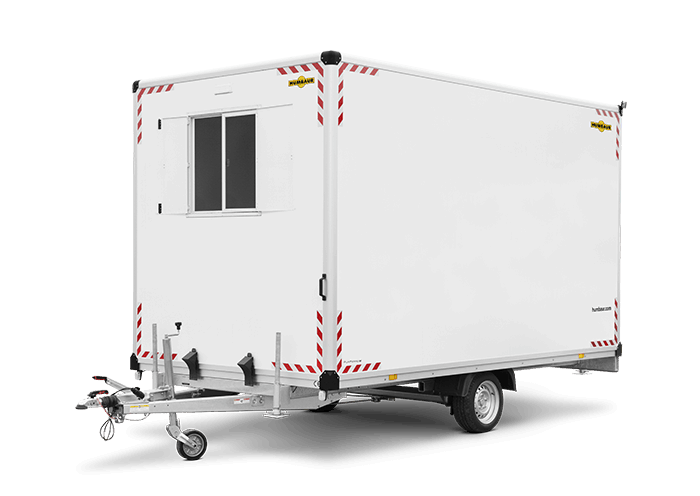 Construction site trailer HK
The mobile lounge with every amenity
i
Platform made out of 30 mm PurFerro sandwich panels.
i
Hot-dip galvanised chassis.
i
Wooden floor, 18 mm thick
i
Central access door in front wall can be locked
i
Four threaded couplings for construction.
i
Galvanised, removable stairs
i
Humbaur multifunctional lighting with reversing light.
i
We can optionally equip the side walls with slide windows.
i
A slide window at the bulkhead with shutters is available optionally.
i
The construction site trailer can be optionally equipped with a securely mounted seat group. It consists of two seat chests and a table, with a length of approx. 1700 mm.
i
Additional, optional electronic equipment
230 V mains supply socket
distribution box
16 ampere double socket
fan heater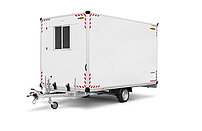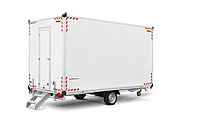 The mobile lounge with every amenity. The trailer can accommodate up to 6 persons and can be optionally equipped with a fixed seat group, consisting of two seats and a table. The trailer can be equipped with a wide range of accessories and adapted to your needs - e.g. with heating fan, sliding window in front and side wall, roof window, main voltage connector 230 V, distributor boxes etc.
Body made out of PurFerro sandwich panels
Hot-dip galvanised chassis
Wooden floor, 18 mm thick
Central access door in back wall can be locked
Four threaded couplings for construction
Galvanised, removable stairs
Humbaur multifunctional lighting with reversing light
Optional slide windows in side wall
Optional slide windows
Optional seat group
Optional roof window
Additional, optional electronic equipment
Technical data
Construction site trailer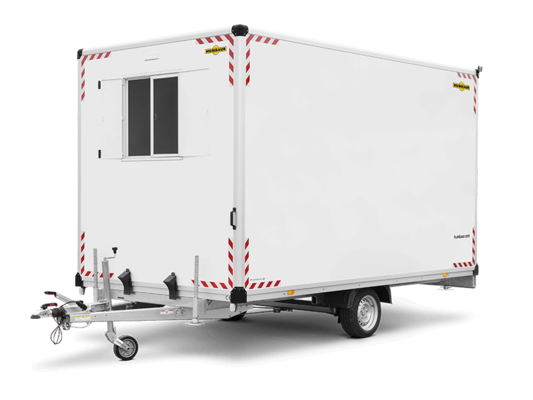 Inner height

2.280 mm
Total height

2.905 mm
Inner length

4.195 mm
Total length

5.645 mm
Inner width

2.130 mm
Total width

2.200 mm
Construction site trailer Standard equipment
Hot-dip galvanised v-shaped coupling
13-pin plug and reversing light
18 mm plywood floor, resin coated
Side walls 18 mm sandwich panels, white coated steel cover layers
door
Jockey wheel
Construction site trailer

Models

Permissible gross weight in kg

1500

1800

2000

2500

Load capacity in kg

493

780

927

1427

Body dimensions in mm (LxWxH)

5645 x 2200 x 2905

5645 x 2200 x 2980

5645 x 2200 x 2905

5645 x 2200 x 2905

Internal dimensions in mm (LxWxH)

4195 x 2130 x 2280

4195 x 2130 x 2280

4195 x 2130 x 2280

4195 x 2130 x 2280

Load height in mm

620

665

620

620

Tyre size in inches

10

13

10

10
Permissible gross weight in kg
1500
braked
Body dimensions in mm (LxWxH)
5645 x 2200 x 2905
Tyre size in inches
10
Internal dimensions in mm (LxWxH)
4195 x 2130 x 2280
Load capacity in kg
493
Permissible gross weight in kg
1800
braked
Body dimensions in mm (LxWxH)
5645 x 2200 x 2980
Tyre size in inches
13
Internal dimensions in mm (LxWxH)
4195 x 2130 x 2280
Load capacity in kg
780
Permissible gross weight in kg
2000
braked
Body dimensions in mm (LxWxH)
5645 x 2200 x 2905
Tyre size in inches
10
Internal dimensions in mm (LxWxH)
4195 x 2130 x 2280
Load capacity in kg
927
Permissible gross weight in kg
2500
braked
Body dimensions in mm (LxWxH)
5645 x 2200 x 2905
Tyre size in inches
10
Internal dimensions in mm (LxWxH)
4195 x 2130 x 2280
Load capacity in kg
1427