The all-rounder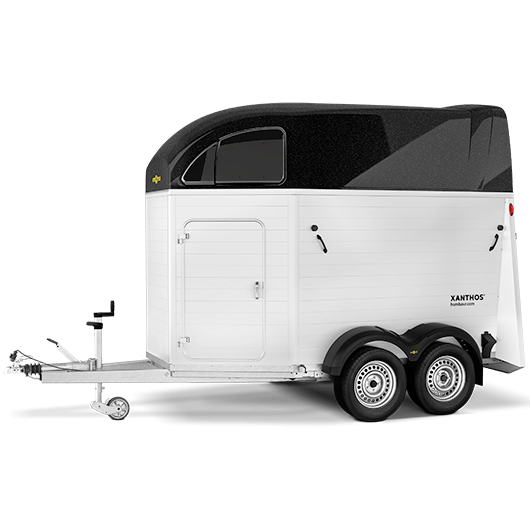 The all-rounder
Lightweight, sturdy and high-quality aluminum design.
A stable aluminium profile body with an elegant polyester roof. This combination makes it possible to achieve the Xanthos© series' lightweight design for good handling and outstanding durability. All load-bearing steel components have been hot-dip galvanised. Thus the Xanthos© is the perfect choice for a long-life trailer, from its chassis to the AluBiComp floor and its aluminium body. Its roominess will appeal to the horse, while the owner will appreciate the saddle compartment's easy loading. The EquiSpace© design and EquiDrive© chassis form part of the standard equipment for this series. The Humbaur EquiDrive© PLUS chassis is available as an optional extra.
The Xanthos horse trailer in detail:
EquiDrive® Standard longitudinal beam chassis
i
EquiDrive® Standard longitudinal beam chassis
Xanthos® 2700 with EquiDrive® PLUS chassis with automatic adjustment of the brake and wheel shock absorbers
Side walls made from aluminium profiles
i
Side walls of double-walled, anodised aluminium profiles.
Polyester roof
i
The Polyester Roof is available in standard silver or black. Other colours from the RAL pallete are available as accessories (additional charge)
Polyester Roof with tinted vent windows in a new design, 5 settings.
13-pin plug
i
13-pin plug with reversing and fog lights.
AluBiComp floor
i
AluBiComp floor, 21 mm thick, with rubber floor, 8 mm thick, glued and sealed.
Hot-dip galvanised frame profile
i
Solid, all-round and hot-dip galvanised Frame profile.
Elegant rear support
i
Elegant, hot-dip galvanised rear outrigger with integrated lighting.
Large access door
i
Large acess door with 3-point locking.
Ramp flap with rubber step
i
Ramp flap with rubber step and side stop.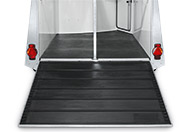 EquiSpace® space concept
i
Maximum space arrangement for the horses thanks to the sophisticated Humbaur EquiSpace® interior concept. This includes split and padded chest and breech bars, adjustable in height and length, with panic unlocking.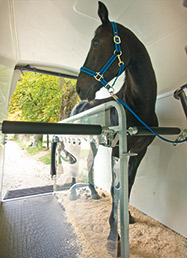 Interior lighting
i
The Humbaur interior lighting creates a pleasant atmosphere in the twilight for horse and human.
Openings for light and air in the interior
i
The exclusive Windschott (deflector) offers draft-free ventilation and continuous air circulation.
Automatic jockey wheel
i
Automatic jockey wheel, centrally mounted.
Tyres / wheel shock absorbers
i
Tyres suitable up to 100 km/h.
Xanthos® 2700 model, including wheel shock absorber and 100 km/h confirmation.
Designed for convenient transport of two horses.
EquiSpace® - our space concept for maximum room for the horses.
The Equidrive ® chassis ensures the highest stability and thus the best possible safety.
The Equidrive® PLUS chassis with automatic brake adjustment (Xanthos® 2700).
Choose a colour
360° view
Learn more about Xanthos
Lockable Partition
Grip and safety, even when the tailgate is open
Our lockable partition offers absolute safety for your four-legged friends, even when the tailgate is open. The partition cannot be unintentionally moved since the mechanical locking system effectively prevents the breeching bars from being pressed upwards. This means that the partition cannot be levered out, even if the tailgate is open, which significantly reduces the risk of injury for the horses in the trailer.
With the lever, which is folded in when fastened, the partition can be locked and unlocked effortlessly and can of course always be adjusted for more space in order to be able to enter more easily. You will receive this innovation as standard with all of our models that include a partition, except for the SPIRIT models and versions with a central post partition.
Experience the lockable partition in action in our short video
Equispace
Our design for a pleasant and safe journey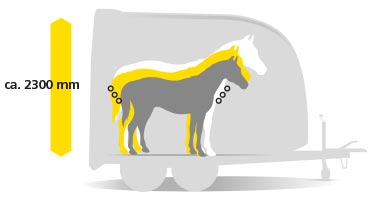 The refined Humbaur EquiSpace® interior ensures the most space possible for horses during transport in the trailer and forms part of the standard models for Balios®, Xanthos®, Zephir® and Notos® as well as their various AERO versions. The roof, which projects forward, offers your horse freedom of movement of the head at ear height. The interior height in this area is about 2300 mm.
The split, padded and moulded breast and breech bars can be individually suspended at three different levels and depths (also new for Pegasus and Maximums models). This allows the stall size in the trailer to be adjusted from pony to large horse. The solid interlock from our older models was kept for safety reasons and due to its popularity.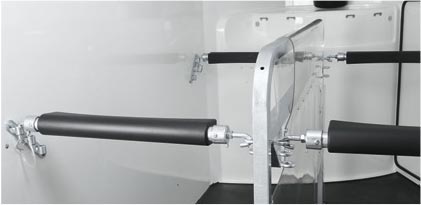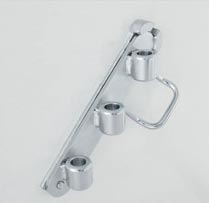 How many horses can I transport?
Two ponies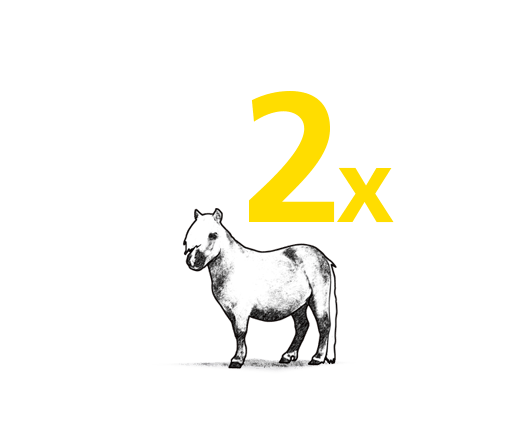 You can comfortably tansport two ponies in the Xanthos, which is available in three weight classes.
One horse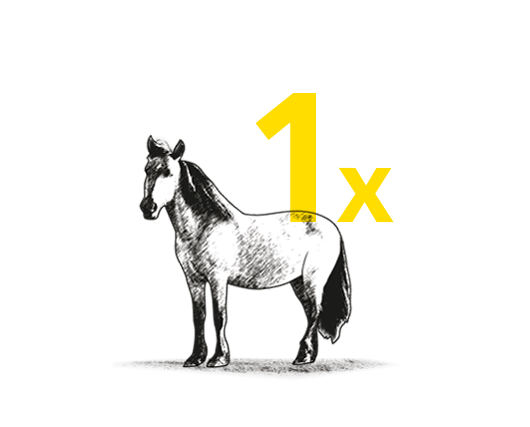 Of course, a single horse can also enjoy the comfort of the Xanthos®.
A pair of horses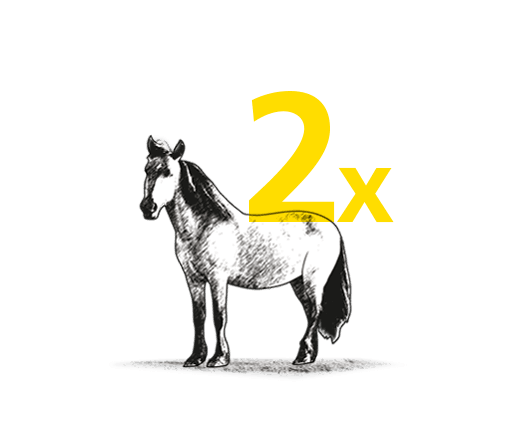 Two fully grown horses can travel conveniently in the spacious Xanthos®.
Two heavy horses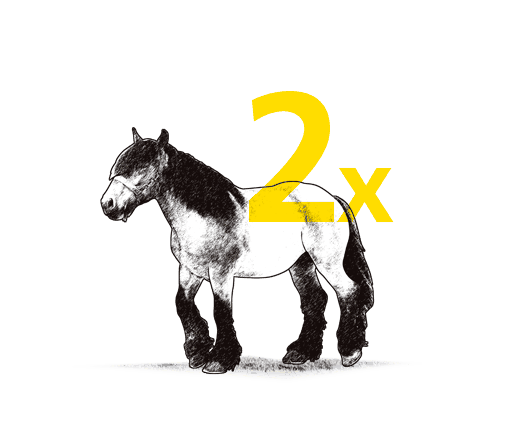 ... will also find adequate space in the roomy Xanthos® horse trailer.
A Humbaur is well planned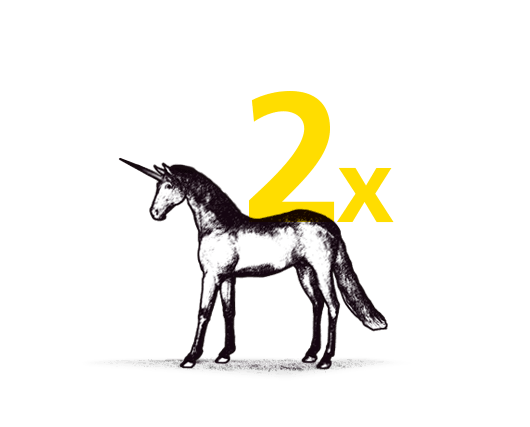 We have also fulfilled the wishes which you believe nobody can fulfil.
Illustrations similar; some illustrations show special equipment.