Trailer /
HK Plywood tandem box trailer retro
Plywood tandem HK retro design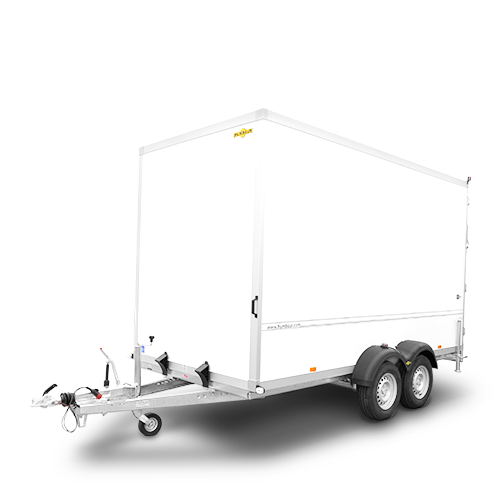 The classic model
for versatile applications
i
V drawbar, hot-dip galvanised
i
13-pin plug and reversing light
i
Side walls and roof made of plywood with high quality smooth fiber-reinforced plastic coating, ideal for labelling
i
Espagnolette lock and hinges made from stainless steel.
i
Optional sliding supports for safe parking
i
Tie down rails with sliding lashing points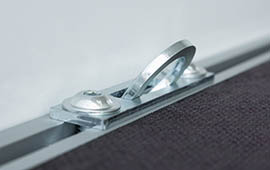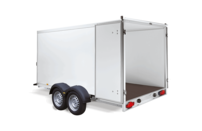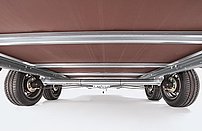 The tandem plywood box is attractive with ist sophisticated detailed solutions and is versatile uses. The frame and chassis are made of hot-dip galvanized steel and give the plywood box series a long service life. The side walls are made of 15 mm multilayer wood (with the HK25 4018-20P, 18 mm thick) with special plastic coating which, if desired, can be covered with your company's advertising for an additional charge. The roof consists of a GRP panel (not with the HK25 4018-20P) with additional galvanized steel support beams in the interior. Optimal illumination of the interior is guaranteed by means of this translucent GRP roof All plywood boxes are equipped with hinges and a lockable espagnolette made of galvanized steel (stainless steel with the HK25 4018-20P). Plastic seals that make waterproof transport of your goods possible are mounted on the doors. The solid galvanized and powder-coated steel corner reinforcements in the roof area and on the front wall below give the Humbaur plywood box extreme stability. The floor of the plywood box consists of special multi-bonded wood so as to be waterproof. It has slip-resistant phenolic resin coating and is 15 mm thick (with the HK25 4018-20P, 18 mm thick). The integrated side tie-down system (not with the HK25 4018-20P) is fitted in the anodised aluminium frame profiles. Each Tie-down ring has got a traction force 400 kg and is approved by DEKRA. On each side there are mounted 3 tie-down rings. This system can be expanded if so desired and gives the carrier sufficient possibilities for securing the cargo. Edge profiles, a warp-resistant rear portal and rain gutters are made of anodised aluminium and offer maximum protection against corrosion. The tandem plywood box from Humbaur, the ideal partner for transporting your goods.
V drawbar, hot-dip galvanised
13-pin plug and reversing light
Floor plate 18 mm thick
Side walls and roof made of plywood
Double-hinged doors
Interiour light mounted
Espagnolette lock and hinges made from stainless steel
Jockey wheel
Optional sliding supports
Tie down rails with sliding lashing points
Technical data
Tandem axle Plywood, wheels out, side walls 18 mm
Inner height

2.000 mm
Total height

2.665 mm
Inner length

4.070 mm
Total length

5.515 mm
Inner width

1.810 mm
Total width

2.318 mm
Tandem axle Plywood, wheels out, side walls 18 mm Standard equipment
Hot-dip galvanised v-shaped coupling
13-pin plug and reversing light
18 mm base place
Side walls and roof made of 18 mm plywood with GRP coating
Double door rear
Espagnolette lock and hinges stainless steel
Jockey wheel
Tandem axle Plywood, wheels out, side walls 18 mm

Models

Permissible gross weight in kg

2500

Body dimensions in mm (LxWxH)

5515 x 2318 x 2665

Internal dimensions in mm (LxWxH)

4070 x 1810 x 2000
Permissible gross weight in kg
2500
braked
Body dimensions in mm (LxWxH)
5515 x 2318 x 2665
Tyre size in inches
15
Internal dimensions in mm (LxWxH)
4070 x 1810 x 2000
Load capacity in kg
1570