Trailer /
MTK Allcomfort tandem axle
MTK Allcomfort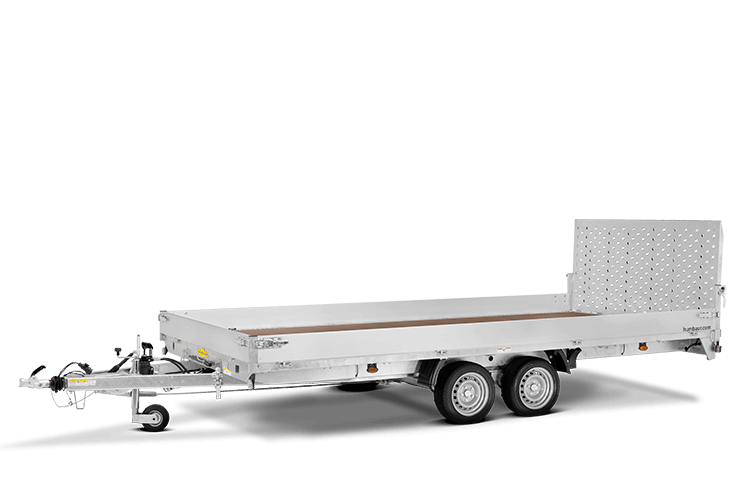 Universal transport aid
Optimized for easy loading and unloading
i
Bolted, hot-dip galvanised chassis
i
Welded, hot-dip galvanised tilting platform.
i
Tilting platform mechanically tiltable by gas pressure springs.
i
Ramp gate with a special perforation and gas springs.
i
Drop-sides made by anodised aluminium
i
Lashing ponts in external frame, traction force 400 kg each
i
Wooden floor 18 mm, weather-resistant.
It makes each operation as convenient as possible: Simply tilt the hydraulic bridge with a manual pump. Gas springs help you to operate the ramp wall. The low load height of 640 mm (single-axle model) or 650 mm (tandem-axle model) keeps the drive-up angle very low. This means that you can also load machines and cars having a low ground clearance without problems. So that the vehicles can be loaded onto the trailer without effort, a stable cable winch frame with a cable winch is available as an optional extra. The sophisticated chassis system of the MTK Allcomfort ensures particularly smooth road handling.
The universal transporter MTK Allcomfort in detail:
Bolted, hot-dip galvanised chassis
Welded, hot-dip galvanised tilting platform
Tilting platform mechanically tiltable by gas pressure springs
Ramp gate with a special perforation and gas springs
Drop-sides made by anodised aluminium
Lashing ponts in external frame, traction force 400 kg each
Optional cable winch
Wooden floor 18 mm, weather-resistant
Technical data
Allcomfort Tandem Axle
Inner height

200 mm
Total height

1.690 mm
Inner length

4.200 mm
Total length

5.750 mm
Inner width

2.180 mm
Total width

2.305 mm
Allcomfort Tandem Axle Standard equipment
Screwed, hot-dip galvanised chassis
Welded, hot-dip galvanised tilting platform
Tilting platform with double acting hydraulic
Drop-sides made by aluminium
6 pairs of lashing points (for 4200 mm length) with 400 kg traction force each, Dekra proofed
8 pairs of lashing points (for 4700 mm length) with 400 kg traction force each, Dekra proofed
Ramp gate approx. 900 mm, with a special perforation and gas springs
Allcomfort Tandem Axle

Models

Permissible gross weight in kg

2500

3000

3500

3000

3500

Load capacity in kg

1630

2130

2580

2080

2535

Body dimensions in mm (LxWxH)

5750 x 2305 x 1690

5750 x 2305 x 1690

5750 x 2305 x 1690

6250 x 2305 x 1690

6250 x 2305 x 1690

Internal dimensions in mm (LxWxH)

4200 x 2180 x 200

4200 x 2180 x 200

4200 x 2180 x 200

4700 x 2180 x 200

4700 x 2180 x 200

Load height in mm

650

650

650

650

650

Tyre size in inches

13

13

13

13

13
Permissible gross weight in kg
2500
braked
Body dimensions in mm (LxWxH)
5750 x 2305 x 1690
Tyre size in inches
13
Internal dimensions in mm (LxWxH)
4200 x 2180 x 200
Load capacity in kg
1630
Permissible gross weight in kg
3000
braked
Body dimensions in mm (LxWxH)
5750 x 2305 x 1690
Tyre size in inches
13
Internal dimensions in mm (LxWxH)
4200 x 2180 x 200
Load capacity in kg
2130
Permissible gross weight in kg
3500
braked
Body dimensions in mm (LxWxH)
5750 x 2305 x 1690
Tyre size in inches
13
Internal dimensions in mm (LxWxH)
4200 x 2180 x 200
Load capacity in kg
2580
Permissible gross weight in kg
3000
braked
Body dimensions in mm (LxWxH)
6250 x 2305 x 1690
Tyre size in inches
13
Internal dimensions in mm (LxWxH)
4700 x 2180 x 200
Load capacity in kg
2080
Permissible gross weight in kg
3500
braked
Body dimensions in mm (LxWxH)
6250 x 2305 x 1690
Tyre size in inches
13
Internal dimensions in mm (LxWxH)
4700 x 2180 x 200
Load capacity in kg
2535