Lift platform trailer with cover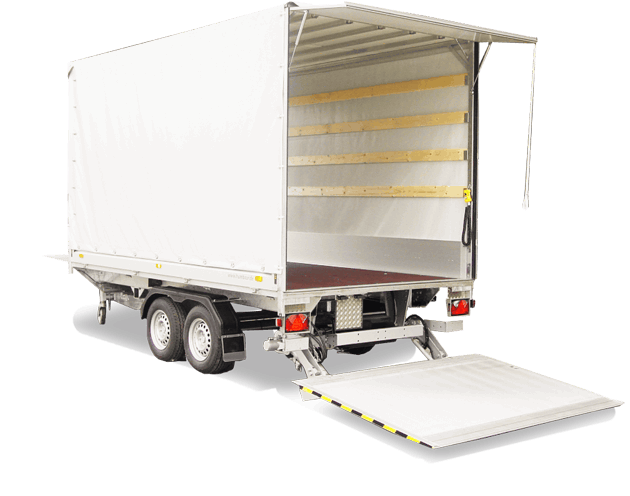 The flexible
logistics professional with lifting platform
i
Optional through-loading to the towing vehicle
i
Here, you can see a version of the lift platform trailer with a tarpaulin cover. Box bodyversions are also available.
i
Remote control for lifting platform
i
Fold-down aluminium rear flap; closes in front of double-hinge doors
i
Chassis with welded frame
i
Side walls made of anodized aluminium with recessed locks
i
8 lashing rings integrated in the outer frame profile; 400 kg of tensile force per ring, DEKRA-tested
i
Preparation for lifting platform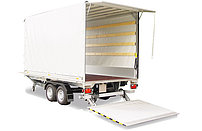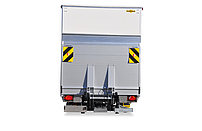 A flexible, professional option for logistics - the Humbaur lift platform trailer. We can install lift platforms manufactured by Dhollandia and Dautel in wheels-in trailers that have an inner length of four metres or more and are intended to be used in a tandem format. With the lift platform, loading is child's play. The trailer can also be equipped to allow through-loading at the front, which makes it easy to also load the towing vehicle with a pallet truck via the traversable loading ramp (manufactured by Alu- Swiss). Thanks to the welded frame and many other technical features, these models are especially suitable for small businesses in the logistics industry.
Optional through-loading to the towing vehicle
Tarpaulin cover version
Remote control for lifting platform
Fold-down aluminium rear flap; closes in front of double-hinge doors
Chassis with welded frame
Side walls made of anodized aluminium with recessed locks
8 lashing rings integrated in the outer frame profile; 400 kg of tensile force per ring, DEKRA-tested
Preparation for lifting platform
Technical data
Lift platform trailer with cover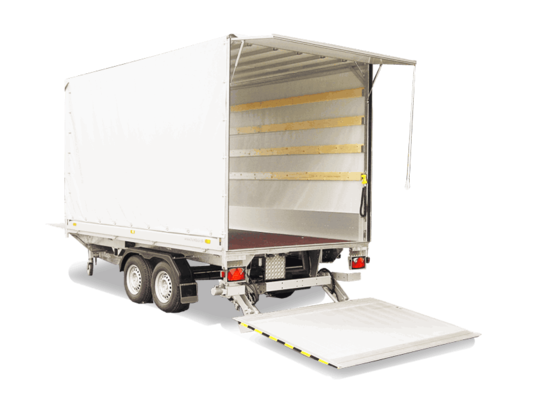 Inner height

2.100 mm
Total height

3.040 mm
Inner length

4.170 mm
Total length

5.990 mm
Inner width

2.175 mm
Total width

2.240 mm
Lift platform trailer with cover Standard equipment
Welded frame
Drop-sides made of anodised aluminium with countersunk fasteners
13-pin plug with 2-pin output line for maintenance charging
Heavy duty jockey wheel, mounted centrally
10 lashing rings, load capacity 0,4 t, integrated in outer frame, DEKRA-certified
Preparation for loading lift
Lift platform trailer with cover

Models

Permissible gross weight in kg

3500

3500

3500

3500

Load capacity in kg

2200

1900

2210

1910

Body dimensions in mm (LxWxH)

6230 x 2240 x 3040

6230 x 2240 x 3040

5990 x 2240 x 3040

5990 x 2240 x 3040

Internal dimensions in mm (LxWxH)

4210 x 2175 x 2100

4170 x 2175 x 2100

4210 x 2175 x 2100

4170 x 2175 x 2100

Load height in mm

900

900

900

900

Tyre size in inches

14

14

14

14
Permissible gross weight in kg
3500
braked
Body dimensions in mm (LxWxH)
6230 x 2240 x 3040
Tyre size in inches
14
Internal dimensions in mm (LxWxH)
4210 x 2175 x 2100
Load capacity in kg
2200
Permissible gross weight in kg
3500
braked
Body dimensions in mm (LxWxH)
6230 x 2240 x 3040
Tyre size in inches
14
Internal dimensions in mm (LxWxH)
4170 x 2175 x 2100
Load capacity in kg
1900
Permissible gross weight in kg
3500
braked
Body dimensions in mm (LxWxH)
5990 x 2240 x 3040
Tyre size in inches
14
Internal dimensions in mm (LxWxH)
4210 x 2175 x 2100
Load capacity in kg
2210
Permissible gross weight in kg
3500
braked
Body dimensions in mm (LxWxH)
5990 x 2240 x 3040
Tyre size in inches
14
Internal dimensions in mm (LxWxH)
4170 x 2175 x 2100
Load capacity in kg
1910