Vehicle transporter MTK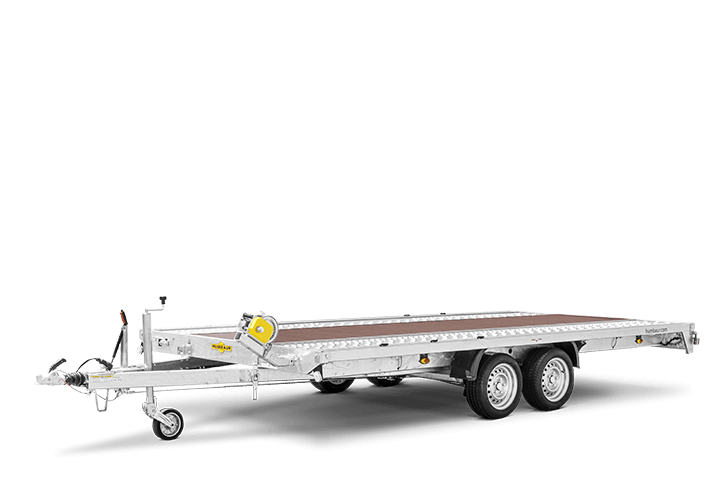 Extremely sturdy and durable
For real professional use
i
Bolted, hot-dip galvanised chassis
i
Welded, hot-dip galvanised tilting platform.
i
Tilting platform mechanically tiltable by gas pressure springs.
i
Steel ramps under the platform, extendable.
i
Cable winch adjustable in longitudinal direction.
i
Perforated stand rails for a safe transport.
i
6 pairs of lashing points (for vehicle internal length 3600 mm & 4200 mm) or 8 pairs of lashing points (for vehicle internal length 4700 mm) in external frame, 400 kg traction force each.
i
Tilting platform locked mechanically in tilted condition.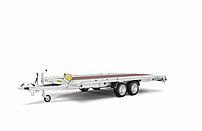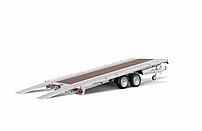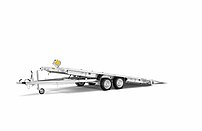 The extremely robust and durable design of the MTK makes this single-axle or tandem- axle trailer ideal for anyone who professionally transports vehicles. With a permissible gross weight of between 1500 and 3500 kg, you can transport even heavy passenger cars safely. The frame and chassis are hot-dip galvanised. The cable winch, which can be adjusted lengthways, is attached to a sturdy block. On extensible, hot-dip galvanised steel ramps, the vehicle is driven onto the trailer at a low drive-up angle. An optional hydraulic system lifts the bridge here. Tie-down options, with 400 kg pull force each, are available on the lateral outer frame to enable the safe tie-down of the goods.
Bolted, hot-dip galvanised chassis
Welded, hot-dip galvanised tilting platform
Tilting platform mechanically tiltable by gas pressure springs
Steel ramps under the platform, extendable
Cable winch adjustable in longitudinal direction
Perforated stand rails for a safe transport
6 or 8 pairs of lashing points
Tilting platform locked mechanically in tilted condition
Technical data
MTK Vehicle Transporter Tandem Axle, Tiltable
Inner height

0 mm
Total height

900 mm
Inner length

4.200 mm
Total length

5.700 mm
Inner width

2.180 mm
Total width

2.180 mm
MTK Vehicle Transporter Tandem Axle, Tiltable Standard equipment
Screwed, hot-dip galvanised chassis
Welded, hot-dip galvanised tilting platform
Tilting platform tiltable mechanically by gas pressure springs
Loading ramps made by steel, stored under the platform
Lengthwise adjustable cable winch
Perforated stand rails for a safe transport
6 pairs of lashing points in external frame, 400 kg
MTK Vehicle Transporter Tandem Axle, Tiltable

Models

Permissible gross weight in kg

3000

3500

3000

3500

Load capacity in kg

2280

2720

2240

2680

Body dimensions in mm (LxWxH)

5700 x 2180 x 900

5700 x 2180 x 900

6200 x 2180 x 900

6200 x 2180 x 900

Internal dimensions in mm (LxWxH)

4200 x 2180 x 0

4200 x 2180 x 0

4700 x 2180 x 670

4700 x 2180 x 670

Load height in mm

650

650

650

650

Tyre size in inches

13

13

13

13
Permissible gross weight in kg
3000
braked
Body dimensions in mm (LxWxH)
5700 x 2180 x 900
Tyre size in inches
13
Internal dimensions in mm (LxWxH)
4200 x 2180 x 0
Load capacity in kg
2280
Permissible gross weight in kg
3500
braked
Body dimensions in mm (LxWxH)
5700 x 2180 x 900
Tyre size in inches
13
Internal dimensions in mm (LxWxH)
4200 x 2180 x 0
Load capacity in kg
2720
Permissible gross weight in kg
3000
braked
Body dimensions in mm (LxWxH)
6200 x 2180 x 900
Tyre size in inches
13
Internal dimensions in mm (LxWxH)
4700 x 2180 x 670
Load capacity in kg
2240
Permissible gross weight in kg
3500
braked
Body dimensions in mm (LxWxH)
6200 x 2180 x 900
Tyre size in inches
13
Internal dimensions in mm (LxWxH)
4700 x 2180 x 670
Load capacity in kg
2680