Trailer /
Wheels-in vehicle transporter
Wheels-in trailer Universal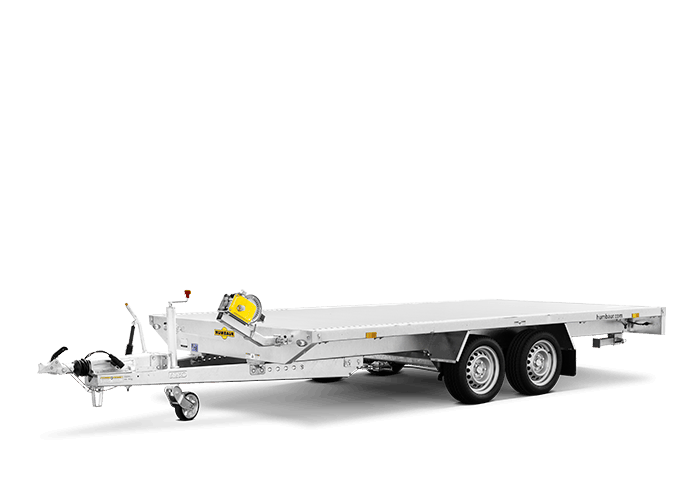 Vehicle transporter and much more
Ready for any application
i
Bolted V drawbar hot-dip galvanised.
i
Optional cover extension possible
i
Drop sides optionally available
i
13-pin plug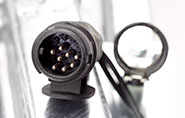 i
2 hot-dip galvanised drive-up ramps made of grating inserted under the cargo bed.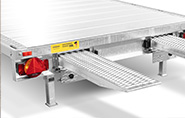 i
2 supports (Universal 3500)
i
7 lashing rings per side integrated into outer frame profile.
i
Perforation for wheel chocks in outer frame profile.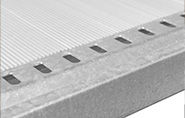 i
Cable winch with cable and three-way adjustable bracket.
i
Automatic jockey wheel (Universal 3000)
i
Jockey wheel, large (Universal 3500)
i
Humbaur multifunctional lighting with reversing light.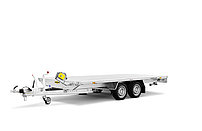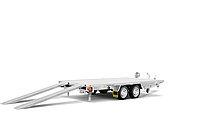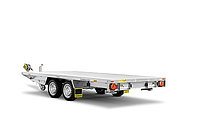 The hot-dip galvanised chassis and frame are topped by a continuous floor plate with almost universal transport options. You can load the Universal loader with two corrosion-protected drive-on planks. Shift the planks to adjust them exactly to the track width of the vehicle. Thereafter, simply slide the planks below the loading surface. You have seven lashing rings to fasten the load safely. You can at any time retrofit the trailer with an aluminium instead of a wooden floor, with aluminium sideboards or a tarpaulin with frame.
Bolted V drawbar hot-dip galvanised
Optional cover extension possible
Drop sides optionally available
13-pin plug
Floor plate 18 mm thick
2 hot-dip galvanised drive-up ramps
2 supports (Universal 3500)
7 lashing rings per side integrated into outer frame profile
Perforation for wheel chocks in outer frame profile
Cable winch with cable and three-way adjustable bracket
Automatic jockey wheel (Universal 3000)
Jockey wheel, large (Universal 3500)
Humbaur multifunctional lighting with reversing light
Technical data
Car transporter, wheels in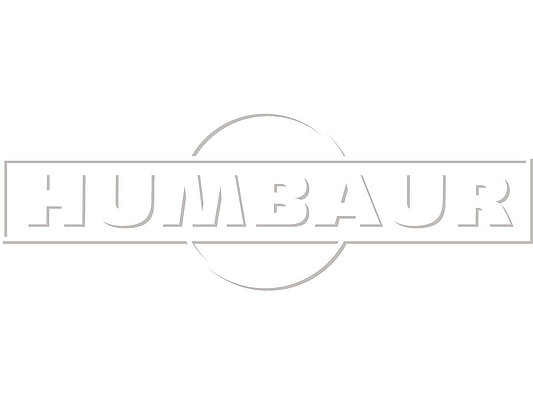 Inner height

0 mm
Total height

830 mm
Inner length

4.000 mm
Total length

5.374 mm
Inner width

2.030 mm
Total width

2.034 mm
Car transporter, wheels in Standard equipment
Hot-dip galvanized v-shaped drawbar
13-pin plug and reversing light
15mm thik base plate
2 hot-dip galvanized loading skids, consisting of a grid inserted under the loading platform
7 tie-rings per side in outer frame profile
perforation stamping in outer frame profile
cable winch with wire and triple adjustable support
jockey wheel
Car transporter, wheels in

Models

Permissible gross weight in kg

3000

3500

3000

3500

Load capacity in kg

2310

2670

2320

2720

Body dimensions in mm (LxWxH)

5374 x 2034 x 830

5405 x 2050 x 890

5374 x 2034 x 830

5405 x 2050 x 890

Internal dimensions in mm (LxWxH)

4000 x 2030 x 0

4000 x 2030 x 0

4000 x 2030 x 0

4000 x 2030 x 0

Load height in mm

600

670

600

670

Tyre size in inches

10

13

10

13
Permissible gross weight in kg
3000
braked
Body dimensions in mm (LxWxH)
5374 x 2034 x 830
Tyre size in inches
10
Internal dimensions in mm (LxWxH)
4000 x 2030 x 0
Load capacity in kg
2310
Permissible gross weight in kg
3500
braked
Body dimensions in mm (LxWxH)
5405 x 2050 x 890
Tyre size in inches
13
Internal dimensions in mm (LxWxH)
4000 x 2030 x 0
Load capacity in kg
2670
Permissible gross weight in kg
3000
braked
Body dimensions in mm (LxWxH)
5374 x 2034 x 830
Tyre size in inches
10
Internal dimensions in mm (LxWxH)
4000 x 2030 x 0
Load capacity in kg
2320
Permissible gross weight in kg
3500
braked
Body dimensions in mm (LxWxH)
5405 x 2050 x 890
Tyre size in inches
13
Internal dimensions in mm (LxWxH)
4000 x 2030 x 0
Load capacity in kg
2720