Trailer /
Single-axle plywood box trailer with ramp wall HKU
Plywood single-axle HKU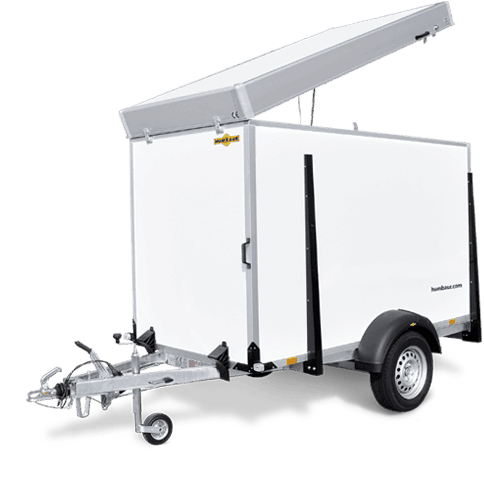 HKU Plywood box trailer
With a practical wood/aluminium cover for multifunctional use.
i
Ramp wall with rear ramp edge and gas spring supports.
i
V drawbar, hot-dip galvanised
i
Side walls and roof made of plywood with high quality smooth fiber-reinforced plastic coating, ideal for labelling
i
6x tie-down eyes integrated into outer frame profile, tensile force 400 kg per tie-down eye (tested by Dekra).
i
Espagnolette lock, galvanised
i
Wood/aluminium cover as roof with gas spring support and 2 locks, lockable.
i
Humbaur multifunctional lighting with reversing light.
Even large and bulky goods can be easily loaded into the HKU. You can simply lift up the cover and use standard transport aids to load your goods via the back wall. The ramp wall is supported by gas springs for easier handling. The trailer is locked with an espagnolette lock for the rear wall and two locks for the cover. The trailer has an integrated tie-down system, with each tie-down eye able to withstand a tensile force of 400 kg (as tested by Dekra). The floor and walls are 15 mm thick. The floor also has an anti-slip coating.
The single-axle plywood box trailer HKU in detail:
13-pin plug
Ramp wall with rear ramp edge
Floor plate 15 mm thick
V drawbar, hot-dip galvanised
Side walls and roof made of plywood
6x tie-down eyes integrated into outer frame profile
Espagnolette lock, galvanised
Wood/aluminium cover as roof
Humbaur multifunctional lighting with reversing light
Jockey wheel
Technical data
Single axle Plywood, wheels out, rear ramp
Inner height

1.730 mm
Total height

2.295 mm
Inner length

2.510 mm
Total length

3.785 mm
Inner width

1.320 mm
Total width

1.810 mm
Single axle Plywood, wheels out, rear ramp Standard equipment
Hot-dip galvanised v-shaped coupling
13-pin plug and reversing light
15 mm plywood base plate
Side walls made of plywood with UV-resistant plastic coating
Rear ramp and upper section, with gas spring support
Galvanised espagnolette and hinges
Lockable wood-aluminium lid with gas spring support and two locks
3 pairs of lashing rings in framework profile, traction force 400 kg per ring, DEKRA approved
Jockey wheel
Single axle Plywood, wheels out, rear ramp

Models

Permissible gross weight in kg

1300

Body dimensions in mm (LxWxH)

3785 x 1810 x 2295

Internal dimensions in mm (LxWxH)

2510 x 1320 x 1730
Permissible gross weight in kg
1300
braked
Body dimensions in mm (LxWxH)
3785 x 1810 x 2295
Tyre size in inches
14
Internal dimensions in mm (LxWxH)
2510 x 1320 x 1730
Load capacity in kg
835