Trailer /
Rexus all-poly box trailer
All-poly box trailer Rexus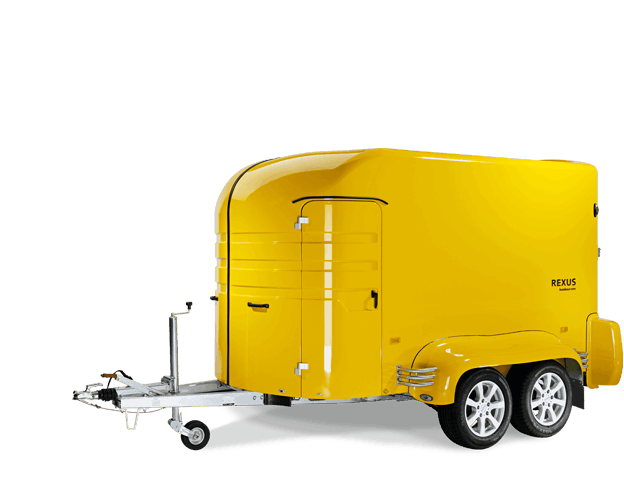 The Rexus for vehicles
Versatile transport solutions with a modern, trendy look
i
Champ side beam chassis, hot-dip galvanised with wheel shock absorber / 100 km/h confirmation.
i
6x lashing rings mounted on cargo bed to secure the load.
i
Ramp wall (optionally with aluminium treat plate, rear gas spring support, lockable, payload 1300 kg, tested by Dekra.
i
Doors at right front, lockable, with three-point lock.
It looks good and proves itself in day-to-day use. Our Rexus is the designer trailer for all those looking for a high-profile appearance. With its chrome decorated lights, aluminium rims and the visual appearance of an elegant horse trailer it catches attention. At the same time, it is highly suitable for everyday use. Its corrosion protected chassis has been successfully in use in our horse trailers for to 100 km/h. A 21 mm thick anti-slip base plate and side walls reinforced with wood panels stand for solidity. The side door offers extra comfortable access to the trailer. The tailgate can handle payloads of up to 1300 kg. What more could you wish for?
The all-poly box trailer Rexus in detail:
Champ side beam chassis
13-pin plug
Floor plate 21 mm thick
6x lashing rings mounted on cargo bed to secure the load
Ramp wall with gas spring support
Doors with three-point lock
Aluminium wheel rims
Jockey wheel
3. Brake light
Technical data
All GRP Box Trailer Rexus
Inner height

1.800 mm
Total height

2.345 mm
Inner length

3.250 mm
Total length

4.596 mm
Inner width

1.500 mm
Total width

2.080 mm
All GRP Box Trailer Rexus Standard equipment
Hot-dip galvanised Champ longitudinal beam chassis with shock absorbers / designed for 100 km/h
13-pin plug and reversing light, 3 braking lights
21 mm thick base plate
6 floor-mounted lashing rings for load security
Locking rear tailgate with hydraulic spring supports
Locking front-right side door with three-point locking
Aluminium rims
Jockey wheel
All GRP Box Trailer Rexus

Models

Permissible gross weight in kg

2000

Body dimensions in mm (LxWxH)

4596 x 2080 x 2345

Internal dimensions in mm (LxWxH)

3250 x 1500 x 1800
Permissible gross weight in kg
2000
braked
Body dimensions in mm (LxWxH)
4596 x 2080 x 2345
Tyre size in inches
15
Internal dimensions in mm (LxWxH)
3250 x 1500 x 1800
Load capacity in kg
1275