Trailer /
Box trailer HK tandem axle sandwich PurFerro, wheels out
Sandwich tandem HK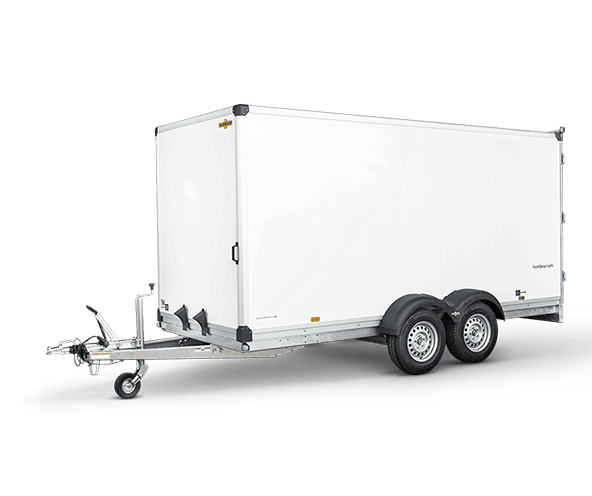 HK Tandem Sandwich
Low centre of gravity and loading height thanks to external wheels
i
V drawbar, hot-dip galvanised
i
Body made from 45 mm sandwich panels
i
Espagnolette lock and hinges made from stainless steel.
i
Humbaur multifunctional lighting with reversing light.
i
LED interiour light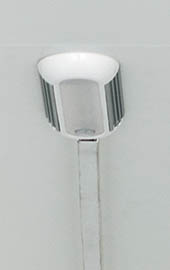 i
Tie down rails with sliding lashing points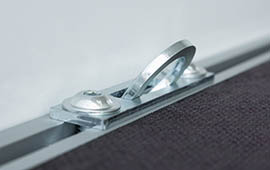 i
Optional side door (accessory)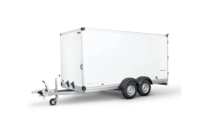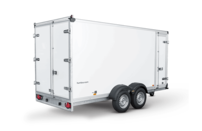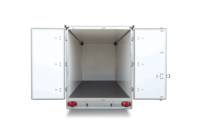 A traditional trailer with a sturdy, long-lasting sandwich box. 18 mm thick special wood for the floor and 30 mm panels for the walls are evidence of its robust construction. The low loading height and a payload of one to two tonnes (depending on the version) make the HK with its external wheels a particularly flexible solution. Its metal components are either made from rust-proof aluminium or hot-dip galvanised steel. An anti-slip, coated floor and door seals demonstrate the detailed design to ensure that this trailer will provide you with day-to-day support.
13-pin plug
Floor plate 18 mm thick
V drawbar, hot-dip galvanised
Body made from 45 mm sandwich panels
Espagnolette lock and hinges made from stainless steel
Double-hinged doors
Humbaur multifunctional lighting with reversing light
Jockey wheel
Handle for manoeuvring
LED interiour light
Tie down rails with sliding lashing points
Optional side door (accessory)
Technical data
Tandem axle sandwich PurFerro, wheels out, side walls 30 mm
Inner height

1.885 mm
Total height

2.510 mm
Inner length

2.685 mm
Total length

4.145 mm
Inner width

1.530 mm
Total width

2.040 mm
Tandem axle sandwich PurFerro, wheels out, side walls 30 mm Standard equipment
Hot-dip galvanised v-shaped coupling
13-pin plug and reversing light
18 mm plywood floor, resin coated
Side walls 30 mm sandwich panels, white coated steel cover layers
Double door rear
Interior lighting
Espagnolette lock and hinges stainless steel
Automatic jockey wheel
Tandem axle sandwich PurFerro, wheels out, side walls 30 mm

Models

Permissible gross weight in kg

2500

3000

3500

2000

2500

3000

2000

2500

3000

2000

2500

Load capacity in kg

1555

2055

2440

1170

1670

2175

1123

1623

2108

1283

1783

Body dimensions in mm (LxWxH)

5640 x 2275 x 2540

5640 x 2275 x 2540

5640 x 2275 x 2580

4640 x 2275 x 2580

4640 x 2275 x 2580

4640 x 2275 x 2580

5140 x 2275 x 2580

5140 x 2275 x 2580

5140 x 2275 x 2580

4145 x 2040 x 2510

4145 x 2040 x 2510

Internal dimensions in mm (LxWxH)

4185 x 1730 x 1885

4185 x 1730 x 1885

4185 x 1730 x 1885

3185 x 1730 x 1885

3185 x 1730 x 1885

3185 x 1730 x 1885

3685 x 1730 x 1885

3685 x 1730 x 1885

3685 x 1730 x 1885

2685 x 1530 x 1885

2685 x 1530 x 1885

Load height in mm

600

600

635

600

600

600

600

600

600

600

600

Tyre size in inches

15

14

14

15

15

14

15

15

14

15

15
Permissible gross weight in kg
2500
braked
Body dimensions in mm (LxWxH)
5640 x 2275 x 2540
Tyre size in inches
15
Internal dimensions in mm (LxWxH)
4185 x 1730 x 1885
Load capacity in kg
1555
Permissible gross weight in kg
3000
braked
Body dimensions in mm (LxWxH)
5640 x 2275 x 2540
Tyre size in inches
14
Internal dimensions in mm (LxWxH)
4185 x 1730 x 1885
Load capacity in kg
2055
Permissible gross weight in kg
3500
braked
Body dimensions in mm (LxWxH)
5640 x 2275 x 2580
Tyre size in inches
14
Internal dimensions in mm (LxWxH)
4185 x 1730 x 1885
Load capacity in kg
2440
Permissible gross weight in kg
2000
braked
Body dimensions in mm (LxWxH)
4640 x 2275 x 2580
Tyre size in inches
15
Internal dimensions in mm (LxWxH)
3185 x 1730 x 1885
Load capacity in kg
1170
Permissible gross weight in kg
2500
braked
Body dimensions in mm (LxWxH)
4640 x 2275 x 2580
Tyre size in inches
15
Internal dimensions in mm (LxWxH)
3185 x 1730 x 1885
Load capacity in kg
1670
Permissible gross weight in kg
3000
braked
Body dimensions in mm (LxWxH)
4640 x 2275 x 2580
Tyre size in inches
14
Internal dimensions in mm (LxWxH)
3185 x 1730 x 1885
Load capacity in kg
2175
Permissible gross weight in kg
2000
braked
Body dimensions in mm (LxWxH)
5140 x 2275 x 2580
Tyre size in inches
15
Internal dimensions in mm (LxWxH)
3685 x 1730 x 1885
Load capacity in kg
1123
Permissible gross weight in kg
2500
braked
Body dimensions in mm (LxWxH)
5140 x 2275 x 2580
Tyre size in inches
15
Internal dimensions in mm (LxWxH)
3685 x 1730 x 1885
Load capacity in kg
1623
Permissible gross weight in kg
3000
braked
Body dimensions in mm (LxWxH)
5140 x 2275 x 2580
Tyre size in inches
14
Internal dimensions in mm (LxWxH)
3685 x 1730 x 1885
Load capacity in kg
2108
Permissible gross weight in kg
2000
braked
Body dimensions in mm (LxWxH)
4145 x 2040 x 2510
Tyre size in inches
15
Internal dimensions in mm (LxWxH)
2685 x 1530 x 1885
Load capacity in kg
1283
Permissible gross weight in kg
2500
braked
Body dimensions in mm (LxWxH)
4145 x 2040 x 2510
Tyre size in inches
15
Internal dimensions in mm (LxWxH)
2685 x 1530 x 1885
Load capacity in kg
1783