Freezer trailer TK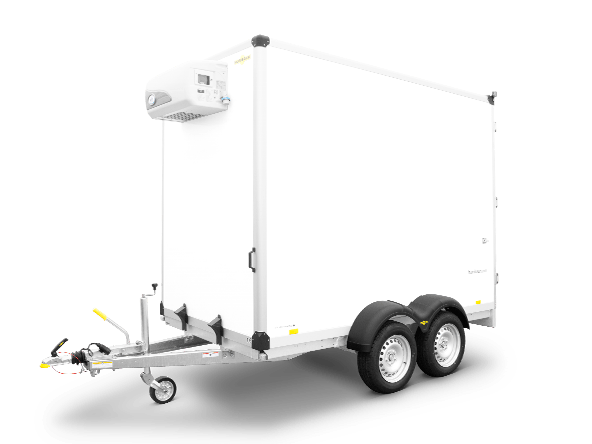 TK Freezer
The deep-freeze trailer TK ensures the right temperature of your frozen goods.
i
V drawbar, hot-dip galvanised
i
The optional freezer unit can regulate the cooling temperature within a range between +10 ° C and -18 ° C.
i
Body made from 80 mm sandwich panels.
Cold, colder, frozen - with our freezer trailer, you can transport goods at temperatures below zero degrees. The cooling units accommodate temperatures between +10 degrees and -20 degrees. To ensure the cold temperatures remain securely in the refrigeration compartment, we have equipped the freezer box with ample insulation. The floor has an 80-mm-thick hard foam core. The walls are just as thick and coated with sheet steel on both sides, with an additional, PVC layer on the inner side. These features make the TK ideally suited for transporting food-in strict compliance with food law. The fittings and hinges on this model are made of stainless steel.
V drawbar, hot-dip galvanised
Freezer unit (optional)
13-pin plug
Body made from 80 mm sandwich panels
Jockey wheel
Technical data
Tandem Axle-Freezer Trailers
Inner height

2.225 mm
Total height

2.960 mm
Inner length

3.080 mm
Total length

4.650 mm
Inner width

1.630 mm
Total width

2.275 mm
Tandem Axle-Freezer Trailers Standard equipment
Hot-dip galvanised v-shaped coupling
13-pin plug and reversing light, interior lighting
Insulated 85 mm thick base plate
Construction using 80 mm thick sandwich panels
Locking double refrigerator doors with interior emergency opening mechanism
Stainless steel hinges
refrigeration unit Govi 2000 P
Front and side interior anti-chafing protection, c. 150 mm high, made from corrugated sheet aluminium
Jockey wheel
Tandem Axle-Freezer Trailers

Models

Permissible gross weight in kg

2500

2500

2500

3000

Load capacity in kg

1422

1288

1185

1685

Body dimensions in mm (LxWxH)

4650 x 2275 x 2960

5150 x 2275 x 2960

5650 x 2275 x 2960

5650 x 2275 x 2960

Internal dimensions in mm (LxWxH)

3080 x 1630 x 2225

3580 x 1630 x 2225

4080 x 1630 x 2225

4080 x 1630 x 2225

Load height in mm

610

610

610

610

Tyre size in inches

15

15

15

14
Permissible gross weight in kg
2500
braked
Body dimensions in mm (LxWxH)
4650 x 2275 x 2960
Tyre size in inches
15
Internal dimensions in mm (LxWxH)
3080 x 1630 x 2225
Load capacity in kg
1422
Permissible gross weight in kg
2500
braked
Body dimensions in mm (LxWxH)
5150 x 2275 x 2960
Tyre size in inches
15
Internal dimensions in mm (LxWxH)
3580 x 1630 x 2225
Load capacity in kg
1288
Permissible gross weight in kg
2500
braked
Body dimensions in mm (LxWxH)
5650 x 2275 x 2960
Tyre size in inches
15
Internal dimensions in mm (LxWxH)
4080 x 1630 x 2225
Load capacity in kg
1185
Permissible gross weight in kg
3000
braked
Body dimensions in mm (LxWxH)
5650 x 2275 x 2960
Tyre size in inches
14
Internal dimensions in mm (LxWxH)
4080 x 1630 x 2225
Load capacity in kg
1685