Single-axle HKPA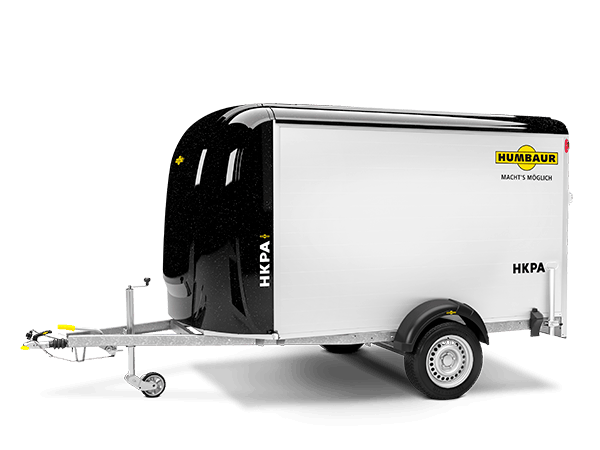 HKPA Single axle
Small but powerful! Suitable for every transport task.
i
Hot-dip galvanised Champ longitudinal beam chassis
i
13-pin plug and reversing light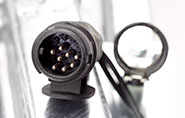 i
Locking front-right side door with three-point locking
i
6 floor-mounted lashing rings for load security
i
Locking rear tailgate with hydraulic spring supports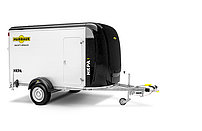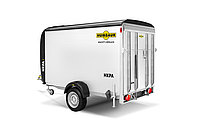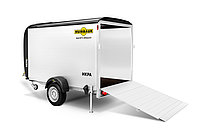 Ideal for transporting one or two motorcycles the HKPA poly-alu box Trailer presents itself stylish and sovereign. The durable and high-quality processed box trailer scores above all with its details and the extensive range of standard equipment. Underride wedges and rear supports are available here as standard as well as the practical tailgate, which can be safely locked. With the HKPA poly-alu box trailer you can transport your bikes always safely and above all dry and protected. Of course the HKPA is also suitable for the transport of other charges. From furniture to moving boxes, garden equipment or sports equipment. Everything can be optimally secured and transported safely and dry.
Hot-dip galvanised Champ longitudinal beam chassis
13-pin plug and reversing light
Locking front-right side door with three-point locking
18 mm thick base plate
6 floor-mounted lashing rings for load security
Locking rear tailgate with hydraulic spring supports
Technical data
GRP Alu Box Trailer single Axle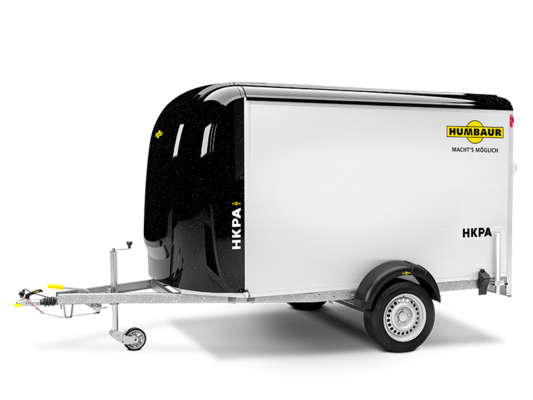 Inner height

1.800 mm
Total height

2.350 mm
Inner length

3.280 mm
Total length

4.550 mm
Inner width

1.770 mm
Total width

2.265 mm
GRP Alu Box Trailer single Axle Standard equipment
Hot-dip galvanised Champ longitudinal beam chassis
13-pin plug and reversing light
18 mm thick base plate
6 floor-mounted lashing rings for load security
Locking rear tailgate with hydraulic spring supports
Locking front-right side door with three-point locking
Jockey wheel
GRP Alu Box Trailer single Axle

Models

Permissible gross weight in kg

1500

Body dimensions in mm (LxWxH)

4550 x 2265 x 2350

Internal dimensions in mm (LxWxH)

3280 x 1770 x 1800
Permissible gross weight in kg
1500
braked
Body dimensions in mm (LxWxH)
4550 x 2265 x 2350
Tyre size in inches
13
Internal dimensions in mm (LxWxH)
3280 x 1770 x 1800
Load capacity in kg
910