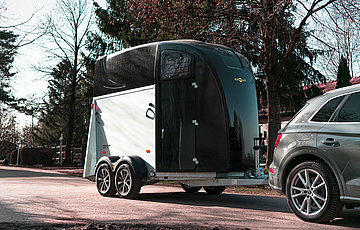 03/15/2021
Humbaur Pegasus: STYLE meets PRO
Introducing a special new product from Humbaur: The Pegasus premium horse trailer combines STYLE and PROfessional design. Our luxury trailer provides impressively high levels of safety and comfort as well as excellent quality and durability. One of its many special features is the enormous amount of space for you and your horses. From its launch, the Pegasus will be available in three model variants, each with a different total permissible weight and load capacity.
Luxury on wheels — offering extensive standard equipment in two weight classes
Our Pegasus horse trailer is a top-of-the-range model that is suitable for amateur riders and professional athletes alike. The trailer features a high-quality finish for durability, including a polystyrene roof and front. The side panels and tailgate are made of double-walled, anodised aluminium profile. It was important to us that the trailer also offered a lavish range of equipment. The aerodynamic front alone reduces both air resistance and fuel consumption. That's far from all: This luxurious horse trailer also features an impressive harmonious design aesthetic that is refined enough to be the perfect accessory for your towing vehicle. Tall horses in particular will be able to enjoy a relaxed ride in the Pegasus thanks to the extra headroom. The new Pegasus is the ultimate horse trailer thanks to its exclusive design and sophisticated technology.
An overview of the standard equipment
Pegasus EquiDrive® chassis with wheel shock absorbers
Pegasus 2700 features an EquiDrive® PLUS chassis with automatic brake adjustment and wheel shock absorbers
Pegasus 2700 S features EquiDrive® PLUS S with coil-spring suspension
Side panels and tailgate made of double-walled, anodised aluminium profiles
Roof and front made of robust polystyrene
Aerodynamic polystyrene and aluminium design
21-mm-thick AluBiComp floor with 15-year warranty against rot
Solid, hot-dip galvanised all-round frame profile
Large panoramic window for an extra-bright interior
Wheel shock absorbers with 100 km/h approval (relating to the German Road Traffic Act)
What's more, this list is far from conclusive. Many other features, such as the 13-pin connector with reversing lights and fog lamp, the side kick plate for protecting the trailer's interior wall and the 8-mm-thick, glued and sealed rubber flooring, are also included as standard. The glued and sealed flooring ensures that the animals inside are kept safe. The access ramp is also fitted with rubber flooring and side stops, allowing horses to be guided in and out of the horse trailer safely.
An enormous amount of space for incredible comfort
Another special feature of the Pegasus is definitely the large saddle chamber that makes loading the trailer hassle-free. The equipment is exquisite, including an extendable saddle holder, two bridle stands, mirror, net, shovel and broom — this trailer has everything you need. The practical interior lighting ensures sufficient visibility, even when it's already dark outside. The extra-high access door is a big plus that allows users to easily walk into the trailer without having to duck. Of course, the door is equipped with a 3-point locking mechanism and can therefore be securely closed. The trailer's enormous internal height ensures horses can feel at ease. At 2370 mm, they have so much space above their heads that even our larger four-legged friends can stand comfortably. Tall horses will especially appreciate the extra height. Travelling in the Pegasus is definitely a comfortable, stylish and safe experience.
WITH our proven Humbaur EQUIGUARD®
Travel in style with the Pegasus horse trailer
Humbaur is known for its sophisticated design solutions. With the new Pegasus, the focus for the equipment was on one thing: luxury. The breast and breach bars are divided and padded. Thanks to their adjustable height and length, the breast and breach bars can be precisely adapted to any horse. The EquiLock® partition wall is lockable and can be removed and re-mounted in no time thanks to a special mechanism. The tinted vent windows have been redesigned to ensure a comfortable level of light in the trailer and thereby protect the sensitive eyes of the animals. The exclusive wind deflector also provides draft-free interior ventilation. This guarantees that the horses receive fresh air inside the trailer without being buffeted by a draft. Comfort, luxury and a striking appearance for transporting horses in style.
An overview of the models
Pegasus 2400 with a total permissible weight of 2.4 t and a load capacity of 1490 kg
Pegasus 2700 with a total permissible weight of 2.7 t and a load capacity of 1770 kg
Pegasus 2700 S with a total permissible weight of 2.7 t, a load capacity of 1760 kg and coil spring suspension
Our new high-quality horse trailer has an elegant design and is both comfortable and luxurious. Sophisticated design details make it a reliable trailer for everyday use and allow horses to be transported in style by amateur athletes and professional riders alike. The Black Metallic polyester roof and front provide a particularly refined appearance with a stylish finish. There is also a wide range of colours to choose from, allowing owners to tailor their horse trailer to their own tastes. Yet another plus: The enormous amount of space for both humans and animals makes journeys using the Pegasus so comfortable. The three variants with different total permissible weights ensure that everyone can find their perfect horse trailer — simply choose the trailer best suits the towing vehicle and the horse. STYLE and PROfessional design.
Humbaur Press Officer
Irina Lew
Corporate Communications Manager
Telephone +49 821 24929-532
i.lew@humbaur.com
Humbaur makes it happen
HUMBAUR is one of the largest companies in the world of trailer and vehicle bodies. The owner-managed family company offers around 420 different trailer models as standard for both commercial and private customers, as well as 230 models in the FlexBox box body range. Its 600 employees produce around 60,000 trailers each year. The expert in trailers and transport solutions with total weights ranging from 750 kg to 55 t has a national and international presence, and also manufactures customised solutions. Over 500 dealers in Germany and 26 other European countries offer local contact partners. More at: www.humbaur.com