Trailer /
Tandem three-way tipper HTK up to 19 t
From 19 t The HTK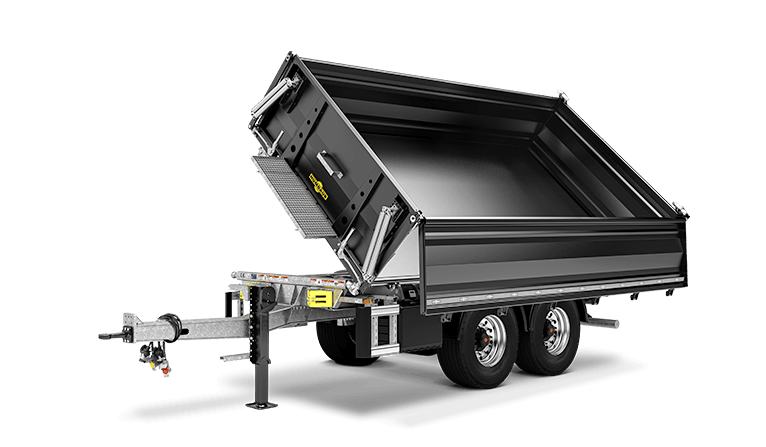 HTK 19 t
Load-capacity-optimised, rugged three-way tipper
i
Central tube
Stilted, length adjustment via boreholes.
With screw-in towing eye Ø 50 mm.
i
Hardox®HB 450 tailgates 800 x 2.5 mm, hinged with central locking.
Fixed front wall 3 mm.
Hardox®HB 450 800 x 2.5 mm hinged rear wall fitted between two sturdy stanchions with automatic tailgate locking.
Complete cataphoretic and powder coated tipping bridge, single-colour in RAL.
i
Platform frame
Platform frame with longitudinal and cross struts for maximum stability and point-load resistance.
Platform floor made from 4 mm highly wear-resistant steel, HB 450.
4 Rocking ball bearings with 2 swap-proof rocker-bearing bolts
Frame
Sturdy, welded and hot-dip galvanised frame for optimum stability and safety.
Hot-dip galvanised in immersion bath.
Motor-powered, hydraulic three-way tipping system
i
Hydraulic three-way tipping system with control via the towing vehicle (max 200 bar)
Three-tiered telescopic cylinder
Hydraulic SVK BG3 plug-in coupling as single circuit connection
i
Reinforced SAF CD axles with drum brake.
Tilting stabilisation through electronic air suspension with shock absorbers.
i
Pneumatic brake with release valve.
Compressed air coupler heads (red/yellow).
Anti-lock braking system.
EBS brake system with spring-loaded parking brake and 24-volt connection plug. The towing vehicle must be equipped with an ABS socket.
i
24 V lighting system with multiple-chamber tail lamps and LED side marking lamps.
i
Mudguard
Equipment
2 wheel chocks with holder.
Contour marking white on the side, red at the back.
i
Reinforced 12 t geared support jack with load and fast speeds, on the left in the direction of travel.
With a permissible gross weight of 19 tonnes, the HTK 19 is not only ideal for bulk materials such a earth, sand, gravel and concrete, but also construction materials such as bricks and concrete blocks. The design of the tandem three-way tipper is based on the width of a pallet and therefore guarantees the safe transportation of palletised goods. With optimised drive and tip qualities and a relatively low tare weight, the tipper offers a reliable helping hand for heavy-duty work.
Details of the HTK tandem three-way tipper from 19 t:
Central tube with screw-in towing eye Ø 50 mm
Hardox® tailgates
Platform frame
Motor-powered, hydraulic three-way tipping system
Axles and suspension
Pneumatic brake
15-pole connection plug
24 V lighting system
Mudguard and equipment
Reinforced 12 t geared support jack
| | | | |
| --- | --- | --- | --- |
| Permissible gross weight in kg | 19000 | Body dimensions in mm | 7103 x 2550 x 2440 |
| Load capacity in kg | 14500 | Tilt angle (to side/rear) | 50 °/50 ° |
| Internal dimensions in mm | 5010 x 2420 x 1000 | Tyre size in inches | 385/65 R22,5 |
| Load height in mm | 1440 | Axle load in kg | 18000 |
Subject to technical modifications. All dimensions are approximate values and relate to the series vehicle without accessories. Additional equipment changes both the inherent weight and the load capacity!
What can I transport with the Humbaur HTK 19 three-way tipper?
Construction materials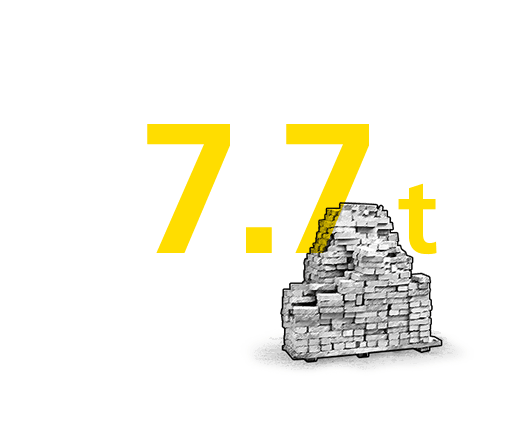 Construction materials such as bricks, concrete blocks, gravel and building rubble.
Fine-grained construction material
The HTK 19 three-way tipper can be used to transport approx. 14 tonnes of sand, depending on the model.
Coarse construction materials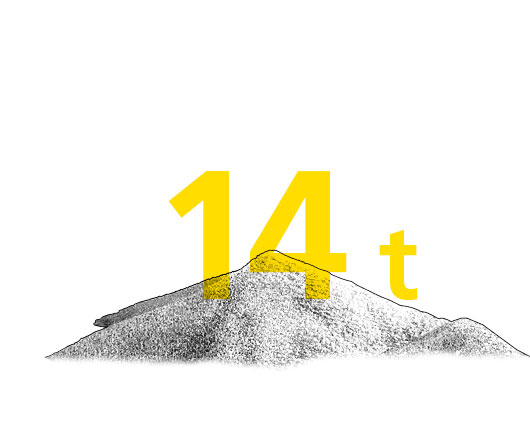 Its rugged construction is perfectly suited for coarse construction materials such as gravel or concrete rubble.